I'm going with this week's topic from
The Broke and the Bookish
, which took me by surprise. I'm used to talking about books I have read, not ones I haven't. I'll go for those which I've fully intended to read, because they are modern, raved about and sure to be well-written. But for reasons I'll try to explain, I've just putting off getting stuck into each of these.
1) The Casual Vacancy
I adore the Harry Potter series but it's sure to be an impossible act to follow. As an admirer of JKR, I don't want to be one of those readers who grumble, 'I don't think it's as good as her earlier work.' To judge from comments and rumours I've heard about the different style she's taken on, and the bleakness in this story, I wouldn't be surprised if I was disappointed.
2) The Book Thief

I'm fascinated by the concept of this book and am certain that Marcus Zusak probably deserves his astronomical rise to fame. What puts me off is anticipating the grief and sadness, when Liesel, the young heroine, inevitably loses the people who have become dear to her. Rumour tells me there are quite a lot of those. In fact, I wouldn't be surprised if she's the last character left standing. (I don't know, so don't take it as a plot spoiler.) I'm getting more tender-hearted lately, and when I get emotionally involved with people, I prefer them to live.
3) The Fault in our Stars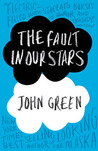 Same as above. I know this has wowed so many people, not only teenage girls, but a story of young love under such tragic circumstances is something I think I can do without. Sorry, Hazel and Augustus, I'm sure you're both lovable and brilliant, but that's the problem.
4) The Help

At the moment, I've had my fill of stories of ill-fated friendships and relationships which are doomed just because of some topical, racial issue such as the colour of a person's skin. I'd expect something in the same ilk as 'The Colour Purple' or 'To Kill a Mockingbird', and I'm not sure I want to face another.
5) Angels and Demons
I read 'The DaVinci Code' with illustrated photos and thought it was quite a fast-paced, exciting read, although I think Dan Brown took major liberties with his interpretations of history. I think one novel with a plot based around a mysterious symbol with Robert Langdon as the hero is enough for me.
6) The Other Boleyn Girl
I'm sure this would be extremely evocative of the Middle Ages, but as we all know the sort of man Henry VIII was, I don't think I can muster the heart to share the romantic thoughts and expectations of Mary, Anne or Catherine, as they anticipate a mutually satisfying relationship with him.
7) The Thorn Birds
I was curious to read this when I was a little girl but my mum kept telling me I was too young. When I'd grown old enough, I found my curiosity to read 'The Thorn Birds' had dissipated, and it never returned. There had been other books to read in the meantime, which led me down different literary paths. Maybe that happens when we are put off for long enough.
8) Myrren's Gift
This has been recommended to me by several different people, but I've kept putting it off because I know I'd be committing myself to not just one book but a whole series of thick books which I'm not sure I want to put aside the time for when I always have a long TBR list. Ironically, I've stumbled across other books on my own which have got me hooked on long series of thick books, but as it was accidental, I just went with the flow. Maybe that's one problem with taking recommendations.
9) Caleb's Crossing
I probably shy away from this one for similar reasons as 'The Help.' The blurb sounds fascinating, but it also gives me the impression of a young, meaningful friendship which has to be dashed on the rocks because some outside authorities tell the hero and heroine, 'This isn't supposed to be what happens between the two of you.' I may be wrong, but I keep wanting to delay facing it in case I'm right.
10) The Number 1 Ladies Detective Agency
I'm not sure why I keep avoiding this one. It's just that I've seen it and read the blurb several times and thought, 'I'll have to read that one day. Alexander McCall Smith sounds like a witty, intriguing author.' Then, for whatever reason, I find something else to read instead.
You might like to share some books you keep putting off reading yourself, or try to convince me to read one or more of those on my list.