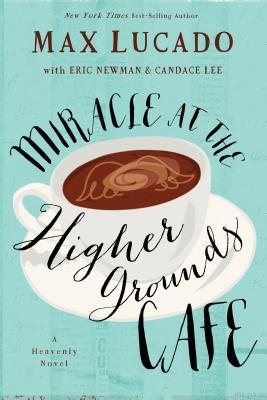 What if you could ask God anything? What would you ask? And how would he answer?

Chelsea Chambers is on her own. After a public split from her NFL superstar husband, Chelsea takes a bold step out of the limelight and behind the counter of the Higher Grounds Cafe, an old-fashioned coffee shop in dire need of reinvention. But when her courage, expert planning, and out-of-this-world cupcakes fail to pay the bills, this newly single mom finds herself desperate for help. Better yet, a miracle.

Then a curious stranger lands at Chelsea's door, and with him, an even more curious string of events. Soon, customers are flocking to the Higher Grounds Cafe, and not just for the cupcakes and cappuccino. They've come for the internet connection to the divine. Now the cafe has become the go-to place for people in search of answers to life's biggest questions.
MY THOUGHTS:
Chelsea Chambers has many hassles. She's inherited her mother's cafe, which had been a family business for generations, but discovered an $86000 debt. This comes on the heels of separating from her husband, who has cheated on her, and trying to deal with the confusion and grief of their two young children. But business takes a sudden boom with the arrival of the 'God Blog' on her premises; a direct internet line to God, who offers to answer the heartfelt prayers of any customers. Chelsea's staff are more than meet the eye too.
The story kept reminding me of movies. It had elements of 'Bruce Almighty' and 'Evan Almighty' but overall, I found it to be more like one of those Hallmark inspired movies, maybe a bit too kitsch and cute. The characters seemed to fall into stereotypes. Frazzled, hard-done-by, beautiful young mother, troubled prepubescent son, adorable daughter, and estranged, sports star husband who has seen the error of his ways. Then there is Manny, the quirky, lovable employee, who is really an angel, and Dennis Darling, the smarmy business man 'friend' with his own agenda.
I was surprised not to find many of Max Lucado's heart-stirring passages which he's so well-known for in his non-fiction. I started this book thinking that fiction may give him another great outlet to do what he does best, but there seems to be much less. I have to say that even though I love his non-fiction and even his kids' books, I'm not a great fan of his adult fiction based on this book.
However, I think his aim of highlighting hidden, spiritual realities was achieved. As we're told, 'prayer moves God, and God moves angels.' There is more going on in the hidden realm around us than meets the eye. Prayers are heard and responded to in their perfect time. They are never wasted or useless. And we never know what may result in the lives of ourselves and our loved ones when we dare to persist in praying for them.
Thanks to NetGalley and Thomas Nelson for my review copy.
2.5 stars