Here's a good list for October, which we all know is Halloween month. Each of these stories contains an incident that takes place in a graveyard. They range from sweet to the macabre, and in honour of the holiday season, I thought I'd count down to award the creepiest of all. I hope you enjoy this virtual trip through these graveyards and cemeteries.
We'll warm up with some nice, sentimental examples. These aren't at all in the running for creepiest, but are designed to make us sigh, 'Aww.'
Anne of the Island
Our heroine fulfills a bittersweet dream when she visits Bolingbroke Cemetery, where her parents lie. Walter and Bertha Shirley died while Anne was still an infant, and were buried together in a single grave. Although they were practically destitute, the local school board erected a tombstone to honor him for his faithful service. Now twenty years later, their orphan daughter pays a visit to lie flowers on their grave, in a touching moment of the story.
Harry Potter (Saint Jerome's Graveyard, Godric Hollow)
This is the burial place of several illustrious witches and wizards. Harry and Hermione pay a visit one snowy Christmas Eve to seek the grave of his parents, and discover that the Dumbledore family and the Peverell brothers of Deathly Hallows fame also lie buried there. Harry weeps with emotion, while Hermione considerately conjures a bouquet to place on James and Lily's grave. And on another occasion, two more teenagers pass by, in a visit from the future. (Time gets very twisted here.) Scorpius Malfoy points it out to his best friend Albus Potter and tells him that in their own time, a memorial statue of baby Harry and his parents has been erected.
The Professor
The Protestant Cemetery outside the gates of Louvain is the scene of a happy reunion in this romance by Charlotte Bronte. William Crimsworth is a young English professor whose beloved girlfriend Frances has been banished by the jealous headmistress. He has no idea how to find her. William is taking a leisurely stroll among the tombstones one fine day when he spots Frances paying a visit to the fresh grave of her aunt. It's such a fantastic coincidence, since he'd resigned himself to never seeing her again.
Now the chilling factor starts to heat up a bit. (I know that sentence sounds contradictory.) Are you still holding on? Many of these involve wide-eyed little orphans or earnest young men.
The Graveyard Book
The cemetery is home sweet home for our young hero orphan. A baby boy toddles away from the scene of his family's gruesome murder. Now he's being brought up in the graveyard down the hill by Mr and Mrs Owens, a kindly couple of ghosts who live there. This story takes the typical changeling plot to a whole new level. Young Bod (short for Nobody) has many crazy adventures in both the natural and supernatural realms. He's just not supposed to ever leave the safety of his graveyard home.
Great Expectations
It's in the local graveyard where the poor little orphan Pip first meets the desperate fugitive Magwitch, who snatches hold of him right beside his parents' tombstone and demands food and a file. Or else his heart and liver will be eaten alive by a fierce young man. Remember Magwitch's obvious relief when he asks Pip where his parents are, and Pip points down at the grave? I don't blame Pip for being quick to comply with the convict's demand, but he has no idea of the ripple effect he sets into motion, which impacts his life long after he's grown up. (My review is
here.
)
The Woman in White
Walter Hartwright is anxious to talk to a deranged young woman who's been sending dire warnings to the girl he loves. He has good reason to believe that Anne Catherick, the woman in white, likes to spend her nights in the cemetery, near a specific grave. He sets up camp to wait for her, and sure enough, Anne shows up loaded with scrubbing gear. Her personal mission is to make sure her benefactress Mrs Fairlie's grave is always the sparkliest and cleanest in the graveyard. It's her devoted way of paying her respects.
That incident already sets the atmosphere, but way later on, a grieving Walter visits the grave of his beloved Laura, to find Laura herself creeping up behind him, alive and well. I'll bet he had goosebumps on his goosebumps! Can't you just imagine him looking down at the grave, then up to her face, then down to the tombstone again? (My review is
here.
)
Hamlet
Graveyards certainly aren't always the quiet places they seem. While a pair of gravediggers are preparing poor drowned Ophelia's grave, they unearth the skull of Yorick, an old jester from Hamlet's childhood. It inspires the young hero to start one of his long, philosophical rants about the nature of mortality, and we know it doesn't take much to set him off. While he's in full flow, Ophelia's brother Laertes arrives with her funeral procession. He sees red at the sight of Hamlet, who he blames for her suicide, and the two young men start a brawl right beside the newly dug grave.
Frankenstein
In a dramatic moment, poor Victor Frankenstein, the hapless young creator, visits the cemetery where all his loved ones lie. Little brother William, playfellow Justine, best friend Henry, beloved Dad and sweetheart Elizabeth. The one thing they share in common is that they've all been murdered by the monster Victor created with his own hands. He kneels among the tombs and vows to bring that fiend down, if it's the last thing he ever does. A diabolical burst of laughter from somewhere nearby greets his outburst, as if to say, 'OK, game on!' (Review is
here
.)
The Bishop's Girl
This story's melancholy premise revolves around a graveyard in France. Bishop Anthony Shackleton died a hero's death there in 1917, and decades later his admirers are exhuming the grave to take his remains home to England. To their shock, another crudely wrapped skeleton, which proves to be a young woman, has been buried with him. All they can figure out is that she shares his DNA. Her identity becomes the business of Professor Waller and his archivist Jess Morris. (My review is
here.
)
Now I'll present my hardcore examples for most spine-chilling, hair-raising or outright weird. These are contenders for the winner.
Wuthering Heights
Could the Gimmerton graveyard, out on the icy, bleak Yorkshire moor be the creepiest of all? Halfway through the story, Heathcliff, who's sick with love for Catherine, bribes the sexton to force open her coffin so he can stare at her face. He says it's still recognisable after twenty odd years. It seems that in their climate, she's frozen solid for a great part of every year. Heathcliff gives orders that he must be buried beside Catherine with the sides of their two coffins removed so they can disintegrate into dust together. Or else he'll prove that the human soul is not annihilated at death. Perhaps he proves it anyway, even though they carry out his wishes. Several traumatised villagers report sightings of Heathcliff and Catherine together above ground, doing whatever they used to when they were wild kids who imagined heaven wasn't good enough for them. It would surely be enough to terrify me, since they were both scary enough alive! (My review is
here.
)
For over a century, I'd say Emily Bronte held the title of the author who gave us the creepiest graveyard incident. But then in the early 21st century, J.K. Rowling popped up to dispute that.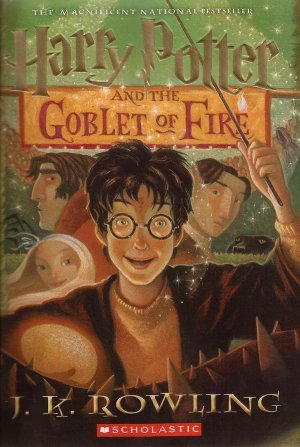 Harry Potter (Little Hangleton Graveyard)
When Harry and Cedric both seize the tournament cup to tie for first place, it turns out to be a portkey drawing them to the Little Hangleton graveyard, where Voldemort gleefully awaits. After disposing of the 'spare' (poor Cedric) he orders Harry to be tied up and arranges a horrific potion which includes blood from his enemy Harry, a bone from his own father who's buried in a nearby grave, and the hand of his willing follower Peter Pettigrew. It's enough for the unthinkable to happen. A reasonably able body for Voldemort is produced. Harry's desperate escape back to Hogwarts involves a mad chase around the tombstones and a staggering collision of spells.
Wuthering Heights or The Goblet of Fire? The struggle was real. And because I couldn't choose between them, I decided to throw in a dark horse. My award for most unexpectedly disturbing graveyard incident comes from a reasonably wholesome coming-of-age classic, and wins for its sheer left-fieldedness and originality.
A Tree Grows in Brooklyn
Somewhere in the block of tenement flats lives a person whose favourite game really freaks young Francie Nolan out. It's 'the boy who plays graveyard.' He puts live caterpillars into matchboxes, digs tiny graves and buries them. Next he makes little headstones by writing on pebbles. Then he holds mock funerals in which he beats his breast and sobs. Needless to say, this seriously disturbs her silent reading time. When he's taken to visit his aunt one day, Francie considers his absence as good as a holiday. I thought I'd give that young lad top honour in this blog post, since nobody else probably ever did! I wonder whatever became of him, although I shudder to think.
Did any of your favourites make it on my list? There must be plenty of gaps, especially since I overlook the whole horror genre, which isn't a favourite of mine so I don't know many. Please feel free to add more in the comments, or take my list as a morbid (or bittersweet) springboard for your own October reading.
And do have a look at last year's Halloween list, Famous Headless People, which includes some truly memorable characters who prove they don't even need heads. You might also enjoy my wisdom from the graveyard school, who were a truly awesome group of men who pieced together a great philosophy just from hanging out in cemeteries writing poetry.