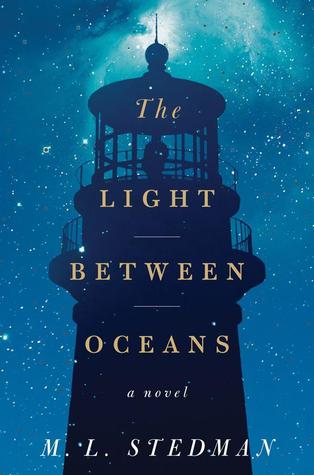 I read and reviewed this one some time ago, but since I like to focus on Australian stories and the occasional classic or best seller, I thought I'd add it to my blog.
After four harrowing years on the Western Front, Tom Sherbourne returns to Australia and takes a job as the lighthouse keeper on Janus Rock, nearly half a day's journey from the coast. To this isolated island, where the supply boat comes once a season and shore leaves are granted every other year at best, Tom brings a young, bold, and loving wife, Isabel. Years later, after two miscarriages and one stillbirth, the grieving Isabel hears a baby's cries on the wind. A boat has washed up onshore carrying a dead man and a living baby.

Tom, whose records as a lighthouse keeper are meticulous and whose moral principles have withstood a horrific war, wants to report the man and infant immediately. But Isabel has taken the tiny baby to her breast. Against Tom's judgment, they claim her as their own and name her Lucy. When she is two, Tom and Isabel return to the mainland and are reminded that there are other people in the world. Their choice has devastated one of them.

M. L. Stedman's mesmerizing, beautifully written novel seduces us into accommodating Isabel's decision to keep this "gift from God." And we are swept into a story about extraordinarily compelling characters seeking to find their North Star in a world where there is no right answer, where justice for one person is another's tragic loss.

The Light Between Oceans is exquisite and unforgettable, a deeply moving novel.
Genre: Australian fiction, modern classics, books which have been made into movies.
MY THOUGHTS:
During the aftermath of World War One, Tom Sherbourne decides that for the rest of his life, he only wants to cause good and not harm. For that reason, he applies for the job of lighthouse keeper at remote Janus Island in Western Australia, situated where the Indian and Southern Oceans meet. He'll have plenty of time to ponder and may help save ships from being wrecked. Little does he know he'll soon find himself in a horrible position in which causing happiness for one woman will result in unspeakable grief for another, and vice versa.

Allowing his beloved wife, Isabel, to keep the child she deeply loves, and who seemed to be washed to their shore by providence means sentencing the baby's birth mother, Hannah, to a lonely life of heartache and forever unanswered questions.

Although my heart ached for each of the three adults, I grieved most for little Lucy. When I was little, I used to dread being taken away from my parents, who meant stability and all the world to me. Her confusion and pain was heartbreaking to read. Is this story about the eventual resilience of the human spirit, or would being the subject of this horrific predicament have scarred her for the long term more than the end of the book seems to indicate? I really don't know.
I found myself wondering whether or not Tom's job choice would be a good one. Being on the introvert side of the spectrum, a whole lot of social interaction quickly becomes tiring for me, but I'm not sure I'd like none at all. Tom was happy though, even in those years alone before he married Isabel. He went for stretches of months without ever seeing another person, and they'd only know he was doing his very important job because the lighthouse on the island would obviously go on each night. When I mentioned it to my husband, he said, 'To be honest, I'd love it,' but I'm not sure he was thinking it through.
SPOILER ALERT



I guess some readers may call the ending 'realistic' and others may say that it constitutes a 'literary' rather than 'popular' ending. Still, I would've liked it if twenty years hadn't lapsed before any contact was made. It seemed like a final cruel twist that Lucy eventually showed up one week after Isabel's death.

It is definitely a book to help readers treasure those sweet, monotonous times with our own children.
4 stars