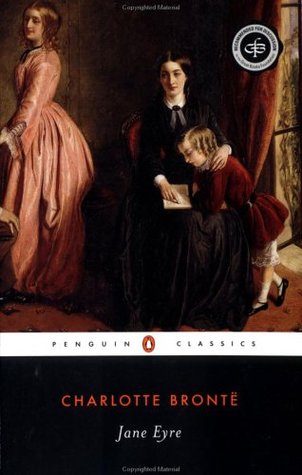 Orphaned into the household of her Aunt Reed at Gateshead, subject to the cruel regime at Lowood charity school, Jane Eyre nonetheless emerges unbroken in spirit and integrity. She takes up the post of governess at Thornfield, falls in love with Mr. Rochester, and discovers the impediment to their lawful marriage in a story that transcends melodrama to portray a woman's passionate search for a wider and richer life than Victorian society traditionally allowed.

With a heroine full of yearning, the dangerous secrets she encounters, and the choices she finally makes, Charlotte Bronte's innovative and enduring romantic novel continues to engage and provoke readers.
Genre: Great classics, Gothic fiction, romance.
Warning: Although I usually take great care to avoid plot spoilers wherever possible, I consider old classics to be fair game. If by any chance you've never read 'Jane Eyre' and would prefer not to have any details revealed, you might want to skip this review.
MY THOUGHTS:
I read this novel more than once in my teens and early twenties, and studied it in my English course at Adelaide Uni. I thought it high time I read it again, to see how it strikes me after having been married and raised a family. I loved it more now than then.
Firstly, Jane herself is a refreshing and interesting heroine, and it's easy to admire her for some of the same reasons she appeals to Rochester. She's an introvert reader's dream, as we probably share some of her best qualities. It's lovely to have a heroine admired for her quietness and caution. What a great role model she is. Serene and peaceful in her outlook, no matter what happens in the daily run of things. Anybody who wants to learn to enjoy their own company just needs to take a leaf from Jane's book.
As for Rochester, I remember deciding that he wasn't my favourite hero when I was a teenager. Back then I thought he sounded too old, ugly and controlling. This time through, I fell for his charisma and charms, and kept wanting to hug him. What ruggedness coupled with vulnerability, which nobody really sees but Jane. He no longer sounds that old, and his physical description is intriguing, in spite of the frequent use of the word 'ugly'.
Their relationship is based on a heart-warming friendship, which I believe all romances should be. They come across as soulmates in the true sense of the word. I love the way he refers to her as his 'little friend'. And when she's staying with her Reed relatives, she sketches Rochester's likeness just so she can comfort herself that she's looking in the face of a friend. This sort of detail shows that they bring out the best in each other, and then when the romance heats up, we can't help loving it and feeling that it's just right.
I don't remember if this question ever occurred to me as a teenager, but this time round I even started to Google it, and the search engine finished asking my question instantly. Why couldn't Rochester divorce Bertha? The procedure wasn't unheard of in their time, and I thought he would have had excellent grounds, with a snarling, fang-dripping wife who was hanging out to set him on fire or rip his flesh with her teeth. The responses that came up didn't seem very satisfactory, the main one being that insanity might not have been seen as a reasonable grounds for divorce. Sounds pretty silly if that was the case, but if it had been easy for him, Charlotte Bronte might not have written her brilliant novel.
I appreciate the way Rochester's possible rival didn't turn out to be a villain or heartless scoundrel, but a great guy in his own way, as well as being Rochester's contrast in many ways. Several of us may have had run-ins with people like St John Rivers, or been related to them. They are living, breathing guilt trips in human form. He has a crusader's zeal, erring on the side of earning his salvation. Doing arduous, sacrificial tasks makes him happiest, and he expects the same of everyone he admires most. Jane was wise, at her young age, in figuring out that St John 'is a good and great man but forgets the feelings and claims of little people in pursuing his own large views.' It's a pity St John couldn't have hooked up with Jane's pious cousin, Eliza Reed. They could have been awesome together.
I was fascinated by the archaic and unusual words Charlotte Bronte used throughout the story. Some of them sound beautiful, and it's a shame they've been pushed out of the modern dictionary. Words like chimera, incubi, charivari, diablerie, cynosure, hierophant and cairngorm. Does anyone have any idea what someone might be talking about who says, 'She has cairngorm eyes'? I certainly didn't, until I looked it up. (No, I'm not telling you. You'll have to look it up yourself.) It's interesting to see Jane mention feeling a 'ruth' for her aunt's or Rochester's great sufferings. I've never seen it used before. Funny how we've kept 'ruthless' but dispensed with 'ruth'.
Needless to say there are a quantity of wonderful quotes from Jane and Rochester, regarding the depth of their love for each other. But one of my favourite lines comes from the cold St John. When Jane mentions the beautiful Miss Oliver's admiration for him, he says, 'It's very pleasant to hear this. Go on for another quarter of an hour.' Then he actually takes out his watch to mark the time. What a guy.
Of course this book hasn't delighted thousands of readers for nothing, and deserves full marks. If only there had been a sequel. Has anyone ever written any fan fiction about Rochester and Jane's son, that baby with his father's dark eyes who was mentioned on the last page?
5 stars
Jane Eyre also appears on my list of
a dozen famous orphans.