One of the benefits of reading fiction is that we get to experience different lives through the characters for a short time. Celebrities lead lives most of us can only ever dream of. This list of books contains main characters who have dealt with big-time fame and fortune. Some have managed to achieve it while others have been born into it. Some are girls and some are guys. While some keep on with their amazing careers, others decide the cost is too high a price to pay. They're interesting reads for times when we want to imagine how it might feel to be media darlings, hounded by paparazzi, showered with accolades and enjoying physical luxuries.
6) A Thing of Beauty, by Lisa Samson.

The heroine, Fiona Hume, has chosen to live like a hermit in a rambling old mansion in which she compulsively collects antiques and bric-a-brac. She was the child of two movie stars and won an Oscar herself, but terrible incidents in her past have caused her to put the lifestyle of a star behind her.
My review is
here
5) Freefall, by Kristen Heiztmann.
A young woman finds herself alone in Hawaii with amnesia, and gradually comes to remember that she's a star of the screen. This makes life interesting both for her and the new friends who were trying to help her.
My review is
here.
4) Screen Play, by Chris Coppernoll.
Harper Gray is a budding actress who is happy to achieve minor roles in stage shows to help pay her bills, but circumstances come together to help her score an amazing role in a Hollywood movie which turns her life around.
My review is
here.
3) The Wind in the Wheat, by Reid Arvin.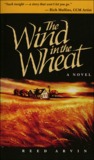 Andrew Miracle (he has a great name) is a farm boy whose musical ability catches the eye of a talent scout. Andrew believes his dreams and prayers have come true when they want to make him a Christian music star. That is, until he realises how many sacrifices will be required of him, and starts to question what's genuine and what isn't. As this was written by an author who knew the nature of the industry well, it's hard to stop thinking about long after you finish.
These next two are Australian novels written by friends of mine, and I highly recommend them both.
2) A Simple Mistake, by Andrea Grigg.
Lainey and Nick used to go out together in their teens, but circumstances split them apart. Some years later, they both decide to give their relationship another try, but there's the added complication of Nick now being a star of both the music arena and big screen. From being anonymous, Lainey is now thrown into the spotlight too, through her association with Nick. She never would have imagined that re-kindling her old romance would have so many complications.
1) Ehvah After, by Rose Dee.
This novel is hot off the press. The heroine, Ehvah Rowe, was brought up in the spotlight, but her famous parents were tragically killed in an accident. Since then, she's found her own notoriety hasn't helped stave off loneliness and disillusionment, and now she's witnessed a murder beneath her own roof. Before she knows it, she's trying to steer clear of a group of desperate crooks. The author, Rose Dee, was one of my co-authors in The Greenfield Legacy, and for anybody who knows her, there's plenty of the suspense, mystery and romance set in the tropics of Queensland you've come to expect.
So these are just picks I've read. If you've read any novels about the rich and famous you'd like to recommend, let us know in the comments.