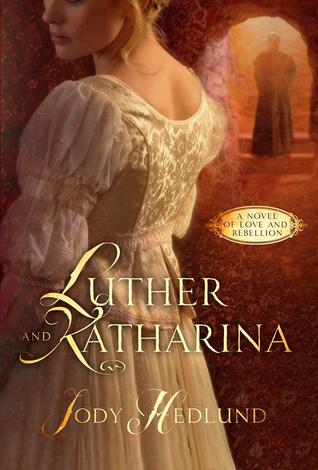 Katharina von Bora has seen nothing but the inside of cloister walls since she was five. In a daring escape, Katharina finds refuge with Martin Luther and seeks his help to pair her with the noble, wealthy husband she desires.

As class tensions and religious conflicts escalate toward the brink of war, Martin Luther believes that each day could be his last and determines he will never take a wife.

As the horrors of the bloody Peasant War break out around them, the proud Katharina and headstrong Martin Luther fight their own battle for true love, in one of the greatest love stories of history.
MY THOUGHTS:
I once read an article about the true love story between these two, which sounded romantic and well worth making into a novel. I'm glad Jody Hedlund has done it.
The story starts with a mad dash by Katharina and her friends to escape their abbey. She's no Julie Andrews type of nun, and the prison is poles apart from the Sound of Music convent. Young daughters of noblemen were often forced to become nuns, and the place was ruled over by cruel Abbot Baltazar, who Martin Luther had good reason to call, 'the Devil's Sword.' Reading smuggled literature written by Dr Luther convinced the young nuns to flee, and because he felt partly responsible for their homeless plight, he took it upon himself to help provide for their futures. Many times suitable marriages could be arranged, but in Katharina's case, he just didn't want to let her go.
This novel is a real tribute to Martin Luther's heroism. When you're a forward thinker, you must be convicted of the truth enough to risk doing illegal things and even cope with death threats. Back then, you couldn't help keeping in mind that execution wasn't humane, but involved being burned at the stake or other creative methods of torture. When others came to you for mercy, you couldn't help taking responsibility for them too. And showing people how your teachings were backed up by the Bible wasn't a viable option, since common folk had been brought up to believe that delving into the holy book themselves was not wise or safe. Every page in this story shows that Luther's position in history as a hero of faith was earned with sacrifice and agony.
Overall, it's a love story between two people who can see each others' faults, but also their wonderful qualities. Katharina can recognise the truth in a man's teachings without any blinkered, hero-worship of the man himself, which was just what he needed. In the 21st century, a woman with her strong qualities could have been a high-flyer in any industry, but she no doubt added her stamp to world history even though her name and input is virtually unknown.
I've got to admit, their romantic hiccups and misunderstandings drove me crazy at times, and often seemed tied in with Katharina's habit of treating her friends like children who needed to be looked after rather than women of equal footing. If I had a gripe with this book, that would probably be it. She seemed to unconsciously set herself above her peers in strength and wit, always thinking of them as more vulnerable than herself - yet maybe if she'd been less like 'The Leader', they wouldn't have taken the roles of cringing sheep. However, as Luther claimed Katharina's abrasive and imperial ways annoyed him most at the outset, her take-charge manner may all be part of her learning curve and not a problem in others' opinions.
The story got me interested enough to look up the Wikipedia pages of other historical figures who appeared, such as Philipp Melanchthon and Justus Jonas. I liked being transported to sixteenth century Germany, and seeing how some things never really change. For example, Katharina chooses to shun the new Bible which has been written in their modern German, in favour of the ancient Latin ones she'd used all her life. It puts me in mind of some twenty-first century people I've come across who still insist on using only the old King James.
One of my favourite quotes is Katharina, to Luther. 'You're lucky I'm here to help you, Dr Luther. The devil cannot abide me.'
Thanks to the publishers, WaterBrook Multnomah, and NetGalley for my review copy.
4.5 stars