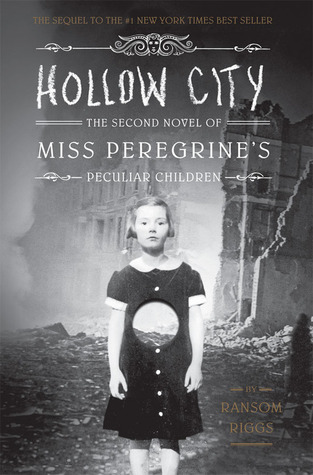 Miss Peregrine's Home for Peculiar Children
was the surprise best seller of 2011—an unprecedented mix of YA fantasy and vintage photography that enthralled readers and critics alike. Publishers Weekly called it "an enjoyable, eccentric read, distinguished by well-developed characters, a believable Welsh setting, and some very creepy monsters."
This second novel begins in 1940, immediately after the first book ended. Having escaped Miss Peregrine's island by the skin of their teeth, Jacob and his new friends must journey to London, the peculiar capital of the world. Along the way, they encounter new allies, a menagerie of peculiar animals, and other unexpected surprises.
Complete with dozens of newly discovered (and thoroughly mesmerizing) vintage photographs, this new adventure will delight readers of all ages.
Genre: YA fantasy, history, bestsellers.
MY THOUGHTS:
I love this novel! Basically it's a mad race against time, and the company of these delightful kids makes it a super quirky read. I'd highly recommend it to anyone who loves The Amazing Race and other quest scenarios.
You must read
Book 1
of the series first. The peculiar kids from Cairnholm Island are back again, still without a clue what they ought to do when their time loop is destroyed, and now a ticking time bomb factor is added to the mix. If they don't hurry to find another ymbryne to help Miss Peregrine, she'll be stuck in her bird form forevermore. Not to mention wights and hollowgasts are on their trail every step of the way. I'll say no more about the twists of this plot, except that they cross different places and times.
On one level, the whole story is really crazy. It reminds me of a creative writing exercise where the teacher asks you to write a story based on random photos plucked from a hat. It's obvious that's pretty close to what Ransom Riggs does, but his cool writing style manages to pull them all together. I was even getting interested in the science concerning hollows and wights, and had to remind myself, 'Hey, this isn't really true,' several times.
Jacob Portman's reflections are still just as good as before. There is always tension between what he knows the others expect from him, and what he feels himself to be deep down, which is a bit of a try-hard and fall-short. He comes to see that peculiar qualities are not a deficiency, as the rest of the world would have them believe, but normalcy is. It's a great story for readers whose peculiarities are not as startling as theirs, yet may still tend to make us feel self-conscious and inferior. What an indulgence for anyone who admires eccentricity.
Jacob's friends steal the show for me. The only people I love as much as the girls, Emma, Bronwyn, Olive, Fiona and Claire, are the boys, Millard, Horace, Enoch and Hugh. What a gang! They come across so innocent and vulnerable, in spite of their great powers. The sarcastic humour and droll understatements keep flying non-stop. I wonder what the subjects of the original photos would think of the characters inspired by their poses.
Sometimes, I just stopped to admire the craftsmanship of the sentences. For example, there's this observation Jacob made as they walked through the war ravaged London of 1940. 'Through a bombed cemetery, long forgotten Londoners unearthed and flung into trees, grinning in rotted formal wear.' These touches of Halloween macabre are delivered in his matter-of-fact way. And I love how he mentions, 'a steady drip of adrenaline, keeping my exhaustion at bay.' You just can't predict what will happen next, and now I'm intrigued to find out how the final book of the trilogy will wrap up these incredible adventures.
5 stars