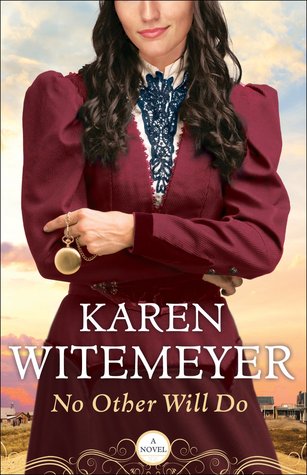 Genre: Christian historical fiction, western fiction.
Men are optional. That's the credo Emma Chandler's suffragette aunts preached and why she started a successful women's colony in Harper's Station, Texas. But when an unknown assailant tries repeatedly to drive them out, Emma admits they might need a man after all. A man who can fight--and she knows just the one.

Malachi Shaw finally earned the respect he craved by becoming an explosives expert for the railroad. Yet when Emma's plea arrives, he bolts to Harper's Station to repay the girl who once saved his life. Only she's not a girl any longer. She's a woman with a mind of her own and a smile that makes a man imagine a future he doesn't deserve.

As the danger intensifies, old feelings grow and deepen, but Emma and Mal will need more than love to survive.
MY THOUGHTS:
This is a nice little western romance. Emma and Malachi knew each other when they were kids, and she rescued him from freezing to death in the snow. Since then they've gone their separate ways. He's an explosives expert working for the railways, and she's the leader of a women's colony, full of ladies who have left their former lifestyles for the chance to join this independent band. When an anonymous villain starts threatening murder unless they leave the town, Emma knows it's time to call on the only male she's ever really trusted for help.
I admire Karen Witemeyer for her thorough research on this novel. It's great when an author takes this part of the process seriously, rather than just trying to wing their way into another time period. Her knowledge of horses, firearms and explosives seems extensive, but she didn't parade it in big slabs just to show the reader she'd done her homework. It was all revealed in measured doses when it became important for the story line.
The guns made me feel a bit freaked out at times. In my place and time, ladies in a similar position would be encouraged to learn self-defense skills such as martial arts, and maybe carry some capsicum spray. These girls knew they might have to shoot to kill. It was serious enough for them to all line up for firearm lessons with Malachi, no matter how their stomachs churned at the thought. It shows what the wild west was like in the nineteenth century, and we'd do well to remember it wasn't all handsome cowboys, pretty girls and romance.
Talking about romance though, I did enjoy the portrayal of Emma's feelings for Malachi. She's an independent woman, a banker who prefers numbers and balance sheets to airy fairy stuff, and the respected leader of a women's colony. Yet her reaction to his nearness and her daydreams about him were very cute. And from his point of view, she's always been his angel.
The story had me reading past midnight to find out the resolution. The mystery aspect played out well. Who would be so determined to scare a group of ladies from their town, and why? What could the motivation possibly be when they were simply trying to live quiet, self-sufficient lives on their own land, far from the next town? The reason does make sense when we find out what it is.
I'd recommend that you jot down a list of the different women to keep handy at first. There are quite a few of them who are introduced all at once, and we get the sense that at least some of them are bound to be significant, or not quite on the level. In fact I was getting overly suspicious of some who turned out to be innocent. You get to remember who they all are down the track, but the list at the outset comes in handy.
Thanks to Bethany House and NetGalley for my review copy.
4 stars