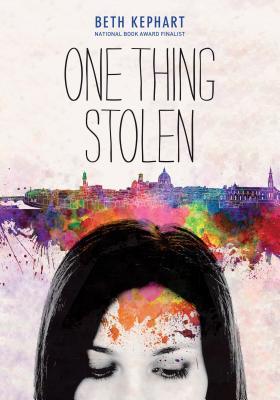 Something is not right with Nadia Cara. She's become a thief. She has secrets she can't tell. And when she tries to speak, the words seem far away. In Florence, Italy, with her epicurean brother, professor father, and mother who helps at-risk teens, Nadia finds herself trapped by her own obsessions and following the trail of an elusive Italian boy whom no one but herself has seen. While her father researches a flood that nearly destroyed Florence in 1966, Nadia wonders if she herself can be rescued—or will she disappear?

Set against the backdrop of a glimmering city, One Thing Stolen is an exploration of obsession, art, and a rare neurological disorder. It is about language and beauty, imagining and knowing, and the deep salvation of love.
Genre: YA contemporary, general market, medical theme.
MY THOUGHTS:
This novel provides a compassionate insight into the mind of a 17-year-old girl who suffers the onset of a sudden mental disorder, which is revealed down the track to be a form of early onset dementia. The condition enhances Nadia's appreciation of beauty, while simultaneously tearing apart her ability to express herself clearly.
While events which take place around her are still clear in her mind, Nadia's ability to express her feelings about them to others in spoken words is affected, and her confusion and pain shows in the scattered style of her narrative. With the use of flashbacks and treasured memories, she describes her bewilderment at becoming somebody so different to the person she considers to be her 'real self'. The bafflement and concern of her family come through strongly too.
As a backdrop to the events, Nadia's father, a university professor, has moved his family to Florence where he can research a major flood which took place there in 1966. Nadia's mother is a social worker who focuses on at-risk teens, and her younger brother Jack is a budding chef. The new environment gives Nadia plenty of scope to indulge her new habit of stealing objects which she can form into secret nests. She also develops a fascination with a strange boy, Benedetto, although other members of her family have never seen him.
The narrative becomes confusing at times, and it takes more sensitivity than I probably have to keep track of the progression of Nadia's illness, twisting her self-expression. Although research on her diagnosis is still in its early stages, the novel provides a note of hope that discoveries which have already been made in brain science and neuroplasticity may have more potential to help sufferers like Nadia in the future.
The bond of loyalty and affection between best friends is a good theme. Nadia's friend Maggie, so often the subject of fond reminiscences, arrives in Florence to do all she can to help, the moment she learns what Nadia has been going through. The section of the book written from Maggie's perspective stands in stark contrast to Nadia's confused piecings together. Nadia's heartfelt reaction to Maggie's presence is lovely to read. The two girls prove that the roots of true friendship go far deeper than what may be evident on the surface.
Overall though, it wasn't an easy book to read in spite of its good points. I never got drawn into the story to the extent that I forgot I was reading a fairly arty novel.
2.5 stars