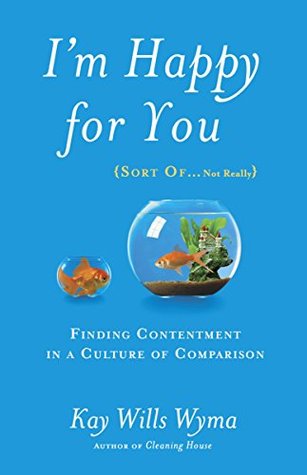 Is comparison living hijacking your life?

Do you find yourself measuring your value against your friend's house, body, marriage, resume, paycheck, organic garden, or Pinterest-worthy holiday décor, and coming up lacking? Do your college roommate's Instagram snapshots bear little resemblance to the scene at your house this morning?

Excessive comparison and competition sap our energy and steal our joy. Our friends become our audience and judges, and our kids become part of our brand. Add social media's constant invitation to post and peruse, and it's no wonder that we're left exhausted, discontent, and lonely. Thankfully, there is another way!

With refreshing candor and humor, Kay Wyma shares her experiences with comparison living and offers readers the simple remedies that helped her and her family reboot their perspective and discover freedom, authenticity, and joy.
MY THOUGHTS:
The 'Obsessive Comparison Disorder' described in this book is the sort of trait we don't find socially acceptable to admit to, so it's interesting to come across books which deal with it. This one is more of a light, breezy read than a dense, heavy one, and I might have preferred something more in the middle. I didn't like the first half of this book, but loved the second.
At first, most of Kay Wyma's examples seemed to be focused on FWPs (first world problems). Empty car parks getting stolen, visitors catching sight of crammed fridges and clothes on bathroom floors, girls comparing their thigh gaps. No doubt we've all been agitated by these types of things, but after several pages of reading about someone else dealing with them, I was finding it a bit much.
The solutions she offers come across more like non-solutions at times. In the author's own words, 'What if we stop looking at others to envy them, and instead look at them to appreciate them and celebrate their success?' Really? Apart from stating the obvious, isn't that a bit like telling a lame man, 'You could cross that road, if you just get up and walk'? Sure, we may need to change our mindsets, but how about some tools to help us figure out how, rather than circular arguments. Question: How do we overcome envy? Answer: Stop being envious.
Also, I was noticing a few too many pearls of wisdom in the form of, 'I told them this.' Once again in the author's own words, 'At this point I couldn't stop myself steering both of us toward truth.' On the whole, Kay Wyma doesn't come across as a smug person, but these were getting frequent enough to count. Maybe it's just a mother's reflex. That might be another thing. I too have a family of kids ranging from young adults down to smaller ones, so I could relate to her, but wondered whether she might be losing other readers with different life circumstances.
The second half improved out of sight. She delves into more meaty matter, such as the fact that no life path we choose is likely to measure up to our unrealistic expectations in every respect. This is wisdom we'd do well to know, because we have more chance of sticking to the course happily if it doesn't take us by surprise.
But what I liked best is when she explained how our cultural bias toward quantifying everything puts unnecessary pressure on all of us. The social media age just compounds the problem. How many attendees, subscribers, viewers, likes, fans and facebook shares do we have? We're encouraged to get a handle on the 'Personal Branding Movement' and make sure we have neat, pithy, consistent messages across multiple platforms; blog, Twitter, Facebook, Pinterest, Instagram, LinkedIn. And personal development lists are rife across social media, just giving us more ammunition to feel guilty about not living up to. Just drawing our attention to the craziness we all call normal is enough to help us draw a deep breath and take a step back. I found it worth plowing through the rest of book just for this part.
Thanks to WaterBrook Multnomah, Net Galley and Blogging for Books for my review copy.
3 stars