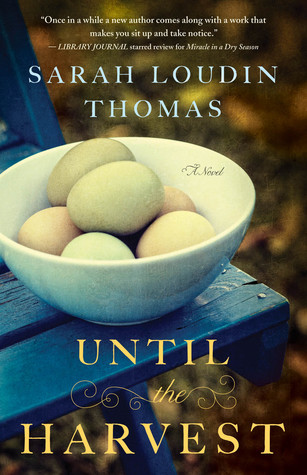 "Once in a while a new author...makes you sit up and take notice."--"Library Journal" When a family tragedy derails Henry Phillips's college studies, he's left unmoored and feeling abandoned. Although Henry tries to find escape in bad company, the only things that can tamp down his anger and grief are the family farm, his fiddle, and sweet but unusual pre-teen Mayfair Hoffman.
Unfortunately, Mayfair's older sister, Margaret, with the freckles and cute, turned-up nose, has the opposite effect. Worse, she's his grandmother's housekeeper and helper, so she's always around and ready to push his buttons. At first he thinks she doesn't care about his loss, before beginning to understand she's facing her own struggles. Mayfair's health and unique gift sit at the heart of those worries, and Henry and Margaret soon find themselves relying on each other as both Henry's future and Mayfair's life are put at risk.
MY THOUGHTS:
There's something I find most compelling about this series. Maybe it's the freshness of not knowing what to expect. (The first few chapters are guaranteed to make us say, 'Hey, what?) Maybe it's the delicate touch of the supernatural in the real world, proving that it doesn't just happen in fairy tales. In this story, a sudden event upsets young Henry Phillips' plans to return to college, while his grandma's helper, Margaret, is always around the place, rubbing him up the wrong way.
I initially took a dislike to Margaret, for paying a guy out at his own father's funeral, then complaining about his manners to his grandma. But I changed my opinion, and really came to like her. She's an introvert who's uncertain of her value, and has a low expectation of being loved. This is partly because of her freckles and sturdier frame in a decade when Twiggy set the fashion standards, and partly because she was the child of a self-focused, socialite mother and ineffective, but well-meaning father.
It's refreshing to see a heroine who likes tidying and cleaning and just wants to live on a farm and raise a family of her own. For so long, girls have been rebuked for admitting ambitions like this, and told to aim higher. Good on Margaret for recognising the nobility and value in her goal! She's not afraid to wipe a bit of toothpaste from a sink. As the character Beulah Simmons points out, 'Too many young women these days are all caught up in their rights.'
Henry's character comes across believably too. Reeling with grief but still wanting to keep up his man-of-the-family front, he makes some bad decisions while trying to convince himself they're sound. Henry is impulsive at times, and lured by the siren call of prestige and possible influence. His theme turns out to be similar to Margaret's, in his case whether or not the humble peace of what he really wants to do deep down will be enough to carry him through.
The cool, supernatural gift in this story comes through Margaret's twelve-year-old sister, Mayfair. It's activated through love. Mayfair suffers a chronic illness (Type 1 diabetes), and it's nice to see such a young and vulnerable character presented as the voice of wisdom. Often, Mayfair sees to the heart of things when her sister is too close to a situation to do the same. For example, she stands up for Henry, reasoning with Margaret, 'Don't you sometimes act one way when you feel another?'
It's good to see Perla's gift from
Miracle in a Dry Season
still operating, although I wonder why she kept it secret from her son. He considers at one stage that his dad had done most of the cooking while he was growing up, which I found a bit sad, considering how Perla enjoyed using her special gift in the prequel. Why would she stop? It also seemed a bit odd that Margaret had been working for Emily since she was sixteen, yet comes across as a vague aquaintance of Henry's and Perla's at the start. Still, it might have happened that way.
On the whole, I enjoyed this as much as Miracle in a Dry Season, and it seemed to be better balanced. The first book focuses more on Casewell than Perla, while this story spreads time equally between both main characters, Margaret and Henry. As the first book takes place in the 50s, and this second one in the 70s, I wonder if the third will be set in the 90s. I just hope it won't be at the expense of another lovely Phillips man.
Thanks to NetGalley and Bethany House for my review copy.
5 stars