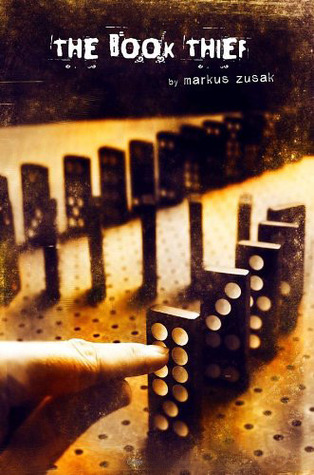 2015 Reading Challenge, Week 14 - A Book which became a Movie.
For a long time, I put off reading this book. It was even on my list of books I wasn't anxious to read. However, now I've steeled myself, I'm glad, although it tore my heart strings as I expected. It was also unique and very easy to get through.
********
1939. Nazi Germany. The country is holding its breath. Death has never been busier.

Liesel, a nine-year-old girl, is living with a foster family on Himmel Street. Her parents have been taken away to a concentration camp. Liesel steals books. This is her story and the story of the inhabitants of her street when the bombs begin to fall.

SOME IMPORTANT INFORMATION - THIS NOVEL IS NARRATED BY DEATH

It's a small story, about:

a girl

an accordionist

some fanatical Germans

a Jewish fist fighter

and quite a lot of thievery.

ANOTHER THING YOU SHOULD KNOW - DEATH WILL VISIT THE BOOK THIEF THREE TIMES
MY THOUGHTS:
I started this book with trepidation. Any story set in Hitler's Germany and narrated by death is bound to be grim. However, for a large chunk, it's also full of the things which make life special, written in a whimsical way. There is plenty of humour, although a lot of it is black.
It's a coming-of-age story about Liesel Meminger's childhood between the ages of about 9 and 14. On the heels of a grievous double family loss, she's taken to be the foster child of middle-aged couple, Hans and Rosa Hubermann.
The characters live on the pages. Liesel herself is considered to have dangerous eyes, because they are brown at a time when blue was preferred by the powers that were. The organic nature of how she takes up book thievery prompts us to think about the immense power of words and stories to change lives. Who would believe something as random and unexpected as 'The Gravedigger's Handbook' could spark a love of literature in anyone?
I love Rudy Steiner, Liesel's vibrant and imaginative best friend, who has so much going for him. His athleticism is just the start. What a wonderful future the boy might have had if he'd been born in a different place and time. He has original ideas and isn't afraid to speak up for himself, a dangerous enough combination to cancel out his safer-coloured fair hair and blue eyes.
Another favourite of mine is Max Vandenburg, the young Jewish man the Hubermann family conceal in their basement for a time. Max has a lot in common with Liesel. They dream their nightmares at the same time each night. I love the big brother/little sister sort of relationship they get going, including the gifts she brings him when he's sick, of which one is a cloud. Liesel memorises the sight and writes a description for him. In return, Max gives Liesel some unforgettable written gifts too.
Papa - Hans Hubermann, is surely one of the best father figures in literature. He's described as barely visible to most people, not noticeable, important or particularly valuable. What a tribute to such people that he turns out to be a pivotal hero in the lives of several, including one little girl who needs his uncommonly patient, sacrificial style of love.
The book is written in a most unusual way, which increases our anticipation of doom from the very start. Death turns out to be a bit of a plot-spoilerish sort of fellow, warning us how characters we love will meet their gruesome ends and under what circumstances. He muses that contrary to being his best friend, as people might have expected, War is a hard task-master, keeping him exhausted. Without giving away who dies (from the start, we know he's bound to strike) I finished up so heavy in my spirit over Old You'll-find-out-Who and Young You'll-find-out-Who. However, true to life, those who might have been deemed most likely to die turn out to be those who survive.
To prove that this book is as much about happiness as sadness in the end, I'll finish with one of my favourite quotes about Liesel's times with Papa.
'If only she could be so oblivious again, to feel such love without knowing it, mistaking it for laughter and bread with only the scent of jam spread over it.'
4.5 stars. (Update early 2019, see my review of his new novel,
Bridge of Clay
)