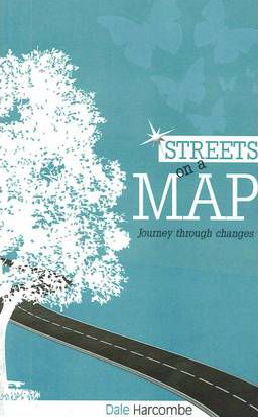 STREETS ON A MAP by Dale Harcombe
Abby, a successful singer in metropolitan Sydney, marries Joel and moves to Astley, the country town he was raised in. Feeling shunned by the locals and at a loss for things to do, she must get creative. Before long, Abby discovers that life in the small town holds more in store than she ever anticipated.
Astley turns out to be a paradigm of the wider world. Normal people lead lives of quiet heroism. Every day is full of noble gestures that may go unnoticed in the grand scheme of events, yet have the power and potential to change the lives of others. A deliberately lit fire, a baby's early delivery, a brand new business, the return of an estranged sister and a cold-blooded attack are just some of the issues dealt with in the story.
As the characters are all honest, regular, down-to-earth people, it's no stretch of the imagination for readers to see that we too, may be a source of huge blessings. It is a story of how small ripples may have more far-reaching effects in our sphere of influence than we may imagine. Beautiful reflections about relationships and the Australian lifestyle make "Streets on a Map" the sort of book that helps us to realize the value of what we have. I found myself refreshed with a renewed sense of optimism and contentment by the finish.


Genre: Adult contemporary fiction
Publisher: Ark House



I met Dale Harcombe once, when we both in Brisbane in 2007 attending the Alpha to Omega Writers conference. Since then, we've been members of the same prayer group. I was delighted for the chance to be able to swap one of my books for "Streets on a Map" and review it.
STREETS ON A MAP Available at Amazon