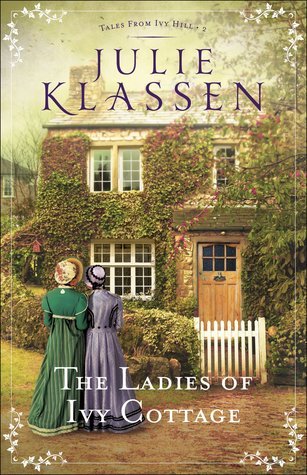 Return to Ivy Hill in
The Ladies of Ivy Cottage
as friendships deepen, romances blossom, and mysteries unfold.
Living with the two Miss Groves in Ivy Cottage, impoverished gentlewoman Rachel Ashford is determined to earn her own livelihood . . . somehow. When the village women encourage her to open a subscription library with the many books she has inherited or acquired through donations, Rachel discovers two mysteries hidden among them. A man who once broke her heart helps her search for clues, but will both find more than they bargained for?
Rachel's friend and hostess, Mercy Grove, has given up thoughts of suitors and fills her days managing her girls' school. So when several men take an interest in Ivy Cottage, she assumes pretty Miss Ashford is the cause. Exactly what--or who--has captured each man's attention? The truth may surprise them all.
MY THOUGHTS:
There's nothing nicer than a well-written village chronicle, and I loved
The Innkeeper of Ivy Hill
, which started this series off. I was so keen for the chance to grab hold of this next installment, and it didn't disappoint. Julie Klassen has a way of building up our curiosity to fathom several village mysteries. It's good to catch up with many characters we came to love in the first book. Some parts of their stories were neatly tied up, but others left tantalisingly dangling. While the Bell Coaching Inn was the main setting for the first book, this time it's Ivy Cottage, where Miss Mercy Grove runs her girls' school.
Remember Miss Rachel Ashford who moves in with her? She was forced to leave her house penniless, with just the unwanted inheritance of her father's hefty book collection. Someone gives her the idea of using it as a base to begin a circulating library, to help her become financially independent. This provides plenty of scope for interesting happenings. Two anonymous donations of books become page turners (pardon the pun), and stir up a few hornets' nests too.
Mercy steps up to a bigger role in this book. Remember, she's a single woman with a maternal heart which she's poured into her little school until now. But two opportunities arise, to adopt her youngest pupil Alice, and to marry an eligible bachelor handpicked by her parents to tick all her boxes (in their opinion). The pressure is on, since it seems they'll pull the plug on her school if she decides against Mr Hollander. And for anyone who's read George Eliot's
Middlemarch
, he seems to want a Casaubon/Dorothea sort of arrangement, where she will help him write a great book which is no more than a concept in his mind as yet.
James Drake, the gentlemanly hotel entrepreneur is still working hard, and we get glimpses into his deeper past, revealing another reason why he chose Ivy Hill for his latest venture. That suited me, as he's a dashing and likeable character. And one of the most marginal people in the first book turns out to be most lovable in this. That's Mercy's aunt, Miss Matilda Grove. She knows full well she's regarded as one of those pointless members of society; an unmarried woman who's dependent on her relatives, but she's a kind, cheerful and fun-loving person. Her revelation to Mercy of what keeps her going impressed me a lot.
There is still plenty of my favourite mother and daughter-in-law team, Jane and Thora Bell. Jane is as sweet as ever, still dealing graciously with the disappointments in her life, and the fact that it's dealt her a different hand than she anticipated. I can personally relate to aspects of Jane's history, and understand why she'd be wary not to be hurt again, even when life beckons with its best. I'm glad her brother-in-law Patrick's story develops too, as I liked him a lot.
The cast of characters has its fair share of overbearing, autocratic mothers, including Sir Timothy's, Nicholas Ashford's, and poor Mercy's. It also has its share of ill-fated romantic liaisons. And I'd love to count the number of times something romantic or significant is on the verge of being uttered, when some third party interrupts the moment. I might've counted, if I'd guessed they would keep coming.
Ivy Hill really is a great place for lovers of Thrush Green, Middlemarch, Cranford, and other fictional English villages. I'm already looking forward to the third in this series.
As for good quotes, although Mr Hollander wasn't necessarily the most endearing character, some of the lines he spouts are great. I love his reply when someone politely asks him who his favourite author is, and it gets his hackles up. 'How can one choose a favourite from among one's very confidantes and mentors? I am not some youth with my arm slung around the shoulder of one's chum at the exclusion of others! Each suits at a different time. A different season.' Yeah, you tell 'em, Professor!
Thanks to Bethany House and NetGalley for my review copy.
🌟🌟🌟🌟½