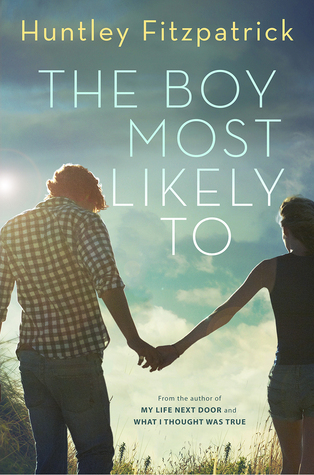 Not long ago, I read the prequel to this novel.
Genre: YA, general market, romance, some strong language and adult themes.
* * *
Surprises abound and sparks ignite in the highly anticipated, utterly romantic companion to My Life Next Door

Tim Mason was The Boy Most Likely To:
- find the liquor cabinet blindfolded
- need a liver transplant
- drive his car into a house

Alice Garrett was The Girl Most Likely To:
- well, not date her little brother's baggage-burdened best friend, for starters.

For Tim, it wouldn't be smart to fall for Alice. For Alice, nothing could be scarier than falling for Tim. But Tim has never been known for making the smart choice, and Alice is starting to wonder if the "smart" choice is always the right one. When these two crash into each other, they crash hard.

Then the unexpected consequences of Tim's wild days come back to shock him. He finds himself in a situation that isn't all it appears to be, that he never could have predicted . . . but maybe should have.

And Alice is caught in the middle.

Told in Tim's and Alice's distinctive, disarming, entirely compelling voices, this return to the world of My Life Next Door is a story about failing first, trying again, and having to decide whether to risk it all once more.
MY THOUGHTS:
Hooray, Tim Mason from
My Life Next Door
is back as the hero of his own story. He was the alcoholic, drug addict, school dropout who swore like a trooper all his way through Samantha and Jase's story. I'd started off assuming he was marked to be the anti-hero, but then he started working his way into our hearts. In this new book, he has even more of a chance to keep stepping up, which is exactly what he does.
Tim's story is paved with temptations to revert back to his former ways, and it's never written with the impression that his struggles are too easy. It's plain how heartbreaking and challenging his hurdles are, taking every ounce of strength he has, and I think he makes an excellent literary role model for any young readers who face similar challenges, as they possibly share his low self esteem issues. It's enjoyable to read the story from his point of view, because along with the quick wit and sassy comments we've come to expect from him, we now have access to the sensitive depth hidden underneath. His sections are written in a very skillful way. It's obvious to the reader from his narrative that Tim is very talented, bright and admirable, although that keeps escaping his own notice.
As for Alice, I've come across girls like her in real life. They are older daughters of large families who automatically fall into the role of parents' stand-in, so their own childhoods and youths are absorbed in adult responsibilities before their time. She adds nursing studies to home burdens, and there's the ongoing pressure of dealing with her father's accident and all the financial repercussions, so it's no wonder she has carers' burn-out. Alice needs a break, and it's great to see Tim become the supportive man who can soften her attitude.
The Tim/Alice relationship was excellent. I found their romance more satisfying to read than the Samantha/Jase one, which was all about the innocence and freshness of first love. It may be initially because we've already met them both, and also because Tim and Alice come across as such opposites. While she's a bit of a control freak, he has a history of stuffing up everything he touches. Although they are young too (he is only 17 throughout most of this story), Tim and Alice are both battle weary, scarred by life's knocks and worn-out. That makes their mutual attraction all the sweeter. I'm sure many young females would want to see Tim get a hug or two, so it's great to see them come through Alice, who turns out not to have a heart of tin after all.
I'd better mention a bit about his problem from the past, without giving spoilers, since it constitutes a major part of the plot. All the characters in the story thought it was the last complication he needed at the stage of his life, yet like many things in life, an unexpected hassle can turn out to be a benefit. The situation distracted him from his other challenges and helped him to grow, after all.
What will be next? A book from Tim's twin sister's point of view? Nan is a complex, issue-ridden person who's nowhere near getting her own head space sorted out at the end of two books. I'm wondering whether her jealousy and sneaky ways may have alienated too many readers to make that happen, but it's easy to understand that it all comes from her struggles to feel good enough. I'd like to see her learn that this type of well-being must come from within her own heart rather than from others' feedback (and where's the satisfaction, if you have to set up personal victories which aren't even real? If you've read the first book, you'll know what I mean.)
Anyway, it was a good place to leave Tim and Alice. They both need to spend a lot of time just chilling out and enjoying each others' company, and the book leaves us with the impression that this is just what they're going to do.
5 stars