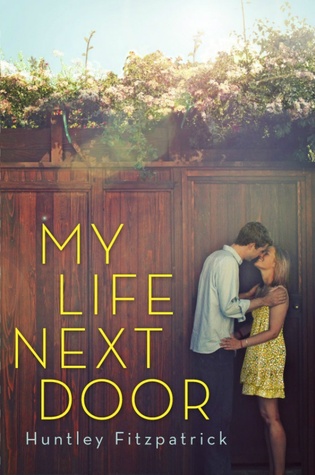 Genre: YA, romance, contemporary, strong language and sex themes, general market.

The Garretts are everything the Reeds are not. Loud, messy, affectionate. And every day from her rooftop perch, Samantha Reed wishes she was one of them . . . until one summer evening, Jase Garrett climbs up next to her and changes everything.

As the two fall fiercely for each other, stumbling through the awkwardness and awesomeness of first love, Jase's family embraces Samantha - even as she keeps him a secret from her own. Then something unthinkable happens, and the bottom drops out of Samantha's world. She's suddenly faced with an impossible decision. Which perfect family will save her? Or is it time she saved herself?

A transporting debut about family, friendship, first romance, and how to be true to one person you love without betraying another.
MY THOUGHTS:
This seemed set to be a sweet romance, as the main character Samantha Reed falls for the boy next door, but turns into a conscience story part of the way through, with moral dilemmas which make it hard to put down.
Samantha's mother, Senator Grace Reed, is an ambitious and highly critical person with a shiny image to maintain. The large Garrett family who lives next door is far more relaxed and spontaneous, and each member values comfort and affection over keeping up appearances. Samantha has secretly watched the Garretts from her upper window for years, and one evening Jase, the second eldest son, introduces himself and quickly wins Samantha's heart.
Sam is a lovely, honest narrator who has trouble juggling family loyalty with disenchantment over some of her mother's unscrupulous values. Senator Grace makes a terrible mistake which hurts every member of the Garrett family and turns their lives upside down. Sam knows speaking up about it may destroy her mother and rock her own life, so she faces an enormous ethical conflict.
Deceptiveness of appearances is a major theme. On the surface, Samantha appears to be the girl who has everything going for her, but a lifetime of being repressed and controlled by her mother has been covered up. Even she is seduced into thinking her life is picture perfect by those who resent or envy her, but comes to understand it's nothing of the sort.
I get how some readers could call the start too slow, others too fast, and they could both be right, in different ways. The pace sort of meanders along at first, with a romance that just rockets off without much conflict. There is also a fair bit of dialogue which is written more for characterisation than moving along the plot. I'd urge them to persevere because the story does take off in a shocking way. And of course, the type of reader who just wants to escape to another world full of lovable characters will probably be hooked from the start, just as Samantha is when she spies on the Garretts. Some of the younger members of the Garrett family are very cute.
A couple of side characters help make this story something special, and that's the Mason twins. Sam's best friend, Nan is an anxious perfectionist, and her brother Tim is a school drop-out who has become a heavy substance abuser. Their friends and family take them on face value, yet there are murky secrets they keep to themselves which echo the theme of things not being as they seem. What a mixed-up pair of siblings indeed.
Following Tim's progress, as he battles his addictions and low opinion of himself is a fascinating study in itself. He's a great contrast to the male lead character, Jase. They are both intelligent, perceptive and original young men, but since Jase comes across as pretty perfect from the start, he doesn't really need much character development. Tim undergoes enough character development for both of them to the extent that I think it would have been a poorer book without him.
As I'd happily read more about the Garrett family and co, I think this book ultimately worked for me when I got into it.
4 stars (3 for the introductory chunk of the book, and 5 for later on)