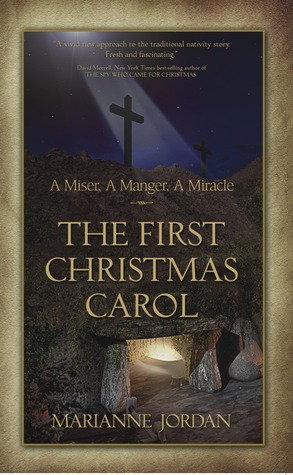 2015 Reading Challenge, Week 50, A Book set during Christmas time.
And this marks the end of my challenge this year. Yahoo!!
Matthew, Mark, Luke, and . . . Dickens?

In an interpretive retelling of this familiar Christmas story the author asks: What if there was room at the inn? The First Christmas Carol combines a timeless work of classic literature with the first documented Christmas story. As darkness cloaks the hills of Bethlehem three angels visit an unscrupulous innkeeper, revealing his past, present, and the miracles yet to come.

Not the story you've read. Still the stories you know.
MY THOUGHTS:
This is a blend of the traditional Christmas story with Charles Dickens' 'A Christmas Carol', which translates to ancient Palestine quite easily.
Ebenezer is the cranky, money-hungry inn-keeper who's doing his utmost to turn the census situation into a personal profit. He'll rip travelers off with exorbitant prices and refuse to give any charity, now matter how needy those who may come before him. Of course, we all know who's going to show up with the donkey, exhausted and with the birth of a baby approaching.
Ebenezer's employee Aaron, this story's Bob Cratchit character, takes pity on the couple and guides them to the stable, at the urging of his lame son, Timothy. And Isaac is Ebenezer's well-meaning nephew, who he's always rejected because the boy's birth caused his sister's death.
While Mary and Joseph are settling down in the stable, Ebenezer is being visited by three angels who have some things to show him. It's a fun Christmas read. I've been reading it with my eleven-year-old son, who isn't familiar with 'A Christmas Carol' yet, as Dickens' language has seemed a bit lofty and wordy so far. It's fun to see him enjoy the story in an easy flowing setting.
4 stars