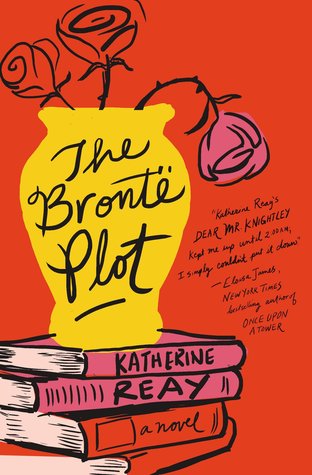 Lucy Alling makes a living selling rare books, often taking suspicious measures to reach her goals. When her unorthodox methods are discovered, Lucy's secret ruins her relationship with her boss and her boyfriend James—leaving Lucy in a heap of hurt, and trouble. Something has to change; she has to change.

In a sudden turn of events, James's wealthy grandmother Helen hires Lucy as a consultant for a London literary and antiques excursion. Lucy reluctantly agrees and soon discovers Helen holds secrets of her own. In fact, Helen understands Lucy's predicament better than anyone else.

As the two travel across England, Lucy benefits from Helen's wisdom, as Helen confronts the ghosts of her own past. Everything comes to a head at Haworth, home of the Brontë sisters, where Lucy is reminded of the sisters' beloved heroines, who, with tenacity and resolution, endured—even in the midst of change.

Now Lucy must go back into her past in order to move forward. And while it may hold mistakes and regrets, she will prevail—if only she can step into the life that's been waiting for her all along.
MY THOUGHTS:
The title could be misleading to some, but it's very apt. If you expect a fast-moving mystery, or something with a detective twist, this isn't really it. The truth turns out to be more creative, and maybe even more meaningful. It simply dawns on the heroine, Lucy, that some of the patterns of her own life gel with the way the Bronte sisters crafted the plots of their novels, and that there are aspects of their stories she can keep in mind to go about fixing hers.
The plot itself chugs along, but not always quickly. Lucy Alling works for antique dealer and interior designer, Sid McKenna. He's a great employer, but some of her own dishonest business habits have caught up with her. Aware of this, her estranged boyfriend's ailing grandmother still hires her as a private consultant and companion to travel to England, to hopefully help repair an old mistake of her own.
I felt a fair bit of the story focuses on the intricacies of Lucy's profession to a depth that tends to halt the action at times. When they finally get to the Haworth section, a major chunk of the novel describes characters doing home design renos. I was anxious to move on to the Bronte Museum and the moors, but that designing part which seemed drawn out, turns out to have a major impact on Lucy's decision makin
g
. Maybe other readers will find it perfect after all. I just wanted to get back to the scenery and literary themes.
Some conversation patches seemed a bit mundane, cheesy or repetitive. How often does Lucy have to ask Helen whether she thinks they should pack up and go home? I'm sure it would have happened like that, but for a novel, I think we get the idea with just a couple of mentions.
For some time, I wasn't sure how to feel about Lucy. I thought if she was really remorseful about her dodgy actions, she'd stop doing anything remotely dishonest, including her fake acts to get seats at restaurants. But old habits die hard and she just hadn't got to her real turning point, which happens near the end. Nobody can deny the significance and impact her own personal discovery finally has on her. The proof of the pudding is whether or not people make changes, and Lucy definitely does at last.
There were some interesting points to consider, such as the three generations of con-artists in her family, and the way each reasoned why their dishonest habits were not, in fact, so bad, and meant to make people happy rather than angry or sad. This gets characters and readers alike pondering where to draw the line when it comes to blurring fiction and reality.
My favourite parts were definitely when Lucy and Helen were exploring literary landmarks and talking about the lives of famous authors. I went on a holiday like that myself, when I was a bit younger than Lucy, and it brought back wonderful memories. It felt as if I was re-visiting and catching up with modern changes. No more pigeons in Trafalgar Square! That's a bit sad.
So altogether, although this wasn't quite the book I expected, it wasn't a bad book at all. I definitely learned a bit about fabrics and curios, although that hadn't been my intention.
Thanks to Thomas Nelson and NetGalley for my review copy.
3 stars.