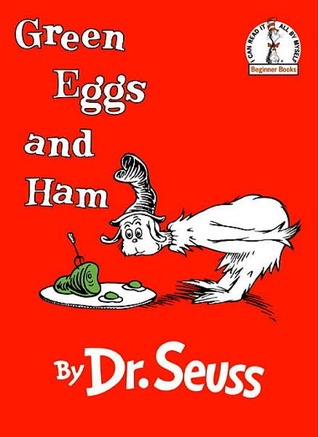 2015 Reading Challenge, Week 47 - A Banned Book
Having read many thick volumes for this year's challenge, I was happy to choose a short book this week. It interests me to discover why kids' books get placed on banned books lists. This one may seem completely innocuous, but apparently it was banned in Maoist China in 1965 for what they perceived as its portrayal of early Marxism. I can't really figure that one out.
"Do you like green eggs and ham?" asks Sam-I-am in this Beginner Book by Dr. Seuss. In a house or with a mouse? In a boat or with a goat? On a train or in a tree? Sam keeps asking persistently. With unmistakable characters and signature rhymes, Dr. Seuss's beloved favorite has cemented its place as a children's classic. In this most famous of cumulative tales, the list of places to enjoy green eggs and ham, and friends to enjoy them with, gets longer and longer. Follow Sam-I-am as he insists that this unusual treat is indeed a delectable snack to be savored everywhere and in every way.

Originally created by Dr. Seuss, Beginner Books encourage children to read all by themselves, with simple words and illustrations that give clues to their meaning.
MY THOUGHTS:
Dr Seuss, aka Theodor Geisel, was challenged by a friend to write a book with only 50 words, and this classic was the result. Limiting himself to such a small vocabulary, yet still ending up with a decent theme, was a really clever feat.
As a kid, I was pretty sure I latched onto the moral Dr. Seuss intended us to. Turning up our noses and declaring we don't like something without even trying it is foolish behaviour with the potential to seriously limit our pleasurable experiences. Even at the age of four, I was already aware that lots of people behave like Sam's friend.
I assumed that Sam-I-Am obviously knew the big, furry guy well enough to have formed a pretty accurate impression of his tastes, so he was doing him a favour by pressing the issue. This is made clear at the end when the big chap profusely thanks him for introducing a new taste sensation.
The moral isn't that we're supposed to pester and nag until the other person breaks down with frustration just to get us off their back. I accepted Sam to be more like the persistent widow in the Bible, (who Jesus commended for pestering the unjust judge), than a colossal pain in the rear end. Sam was the hero for risking unpopularity by going out of his way to prove his point, when it would have been far easier for him to shrug his shoulders and say, 'Your loss.'
Would I try green eggs and ham myself? Possibly, since I've tried purple carrots, yellow watermelon and blood oranges. It is a strange experience, to reconcile a familiar flavour with an unexpected colour. But I would draw the line at black pudding, just because I don't fancy the thought of the ingredients that go into it, so we all have our limits.
I guess many parents have used this little book to encourage their kids to eat up over the years, and will probably keep doing it for decades to come.