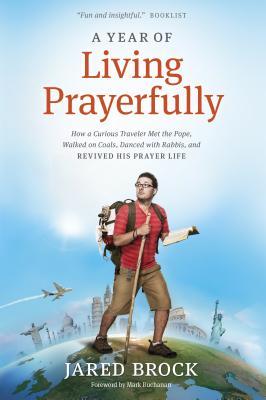 2015 Reading Challenge, Week 11 - A Memoir
Memoirs differ from autobiographies in that they usually cover just a section of the author's life, rather than a broad account from birth onwards. They are often written around a particular theme. This one is a great read for those of us who would travel more if we were in the position. Reading helps us to be good armchair travelers.
Although up to 90% of us pray, very few of us feel like we've mastered prayer. A Year of Living Prayerfully is a fascinating, humorous, globe-trotting exploration of prayer that will help you grow your own prayer life.

While filming a documentary about sex trafficking, Jared and Michelle Brock felt a deep need for prayer in their personal lives. In an effort to learn more about prayer, the couple traveled the globe, exploring the great Judeo-Christian prayer traditions: in mountains and monasteries, in Christian communities and cathedrals, standing up and lying down, every hour and around the clock.

Jared's witty reflections on his fast-paced journey will both entertain and inspire you to think about your own prayer journey.
Join Jared on a rollicking modern-day prayer pilgrimage... you'll never pray the same again.
MY THOUGHTS:
Jared Brock and his wife, Michelle, wanted to be more effective in their prayer lives. He claims to have been more of a dwarf sapling than the giant spiritual oak he wanted to be. What follows is a fascinating pilgrimage around the world to locations of several prayer greats, some living and some dead. If there were any secrets to a powerful prayer lifestyle along the way, Jared was determined to find them. What he offers us is not another 'how to' book on prayer techniques, but a candid series of interviews and research in which he finds out what has worked best for others.
I enjoyed this book, especially because it's the sort of trip I'd love to take myself. Jared draws us into his own experiences in such a way that we might have tagged along on his travels. It's easy to trust him to be the ideal guide, because of his obvious earnestness to cut through any waffle and commercialism to the gems beneath.
Some of the places he visited I wouldn't be able to get to anyway, such as the Greek Orthodox community of Mount Athos, where no females are allowed. Others I might not want to explore, such as North Korea, Westboro Baptist Church and some of the more militant parts of Israel. In fact, Jared Brock was seriously worried for his own safety at times. Firewalking at a Tony Robbins convention was the least of his danger.
Some of his highlights include a face-to-face meeting with Pope Francis at the Vatican, walking the famous Camino de Santiago in Spain, which incorporates the Apostle James' resting place, and discovering the site of Brother Lawrence's monastic kitchen in France. He also went to Dr David Yonggi Cho's enormous Yoido Full Gospel Church in Seoul. All this is just scratching the surface.
He ended up with several eye-opening and thought-provoking takeaways from this smorgasbord of destinations. Some are in his frequent, amusing footnotes. The book is interspersed with quotes from well-known people. On a more prosaic note, I was shaking my head over the number of significant landmarks which turned to be unexpectedly closed when Jared arrived, or access was denied for whatever reason. The fact that I'm not the only person this sort of thing repeatedly happens to is a revelation in itself.
With so many vastly different philosophies and habits to examine, he was looking for recurring themes or major breakthroughs. Jared was no unbiased reporter. He's always ready to give his personal opinions in his wrap-ups. He lets us know when he's amazed or aghast, and most times, his feelings coincided with mine.
There are so many saints and prayer greats to quote from, but I'll finish with a quote from Jared Brock himself to sum up this book. 'A lot of people, myself included, are guilty of treating God like a self-help guru. Prayer is our mantra, a way to bolster our confidence and psych ourselves up for whatever challenges lie ahead. To some extent it works. But prayer isn't a mind game. It's not a pseudoscientific technique for achieving success in life. It's a deeply intimate form of communication with the lover of our souls. Prayer isn't about self-improvement. We don't gain confidence. We enter God's. We don't become a better person. God conforms us to the image of His Son. We don't attain perfection. We're covered by the spotless Lamb.'
I'm so glad that, as he made the effort to make this pilgrimage, he didn't keep the experiences and insights to himself.
Thanks to NetGalley and Tyndale House for my review copy.
5 stars