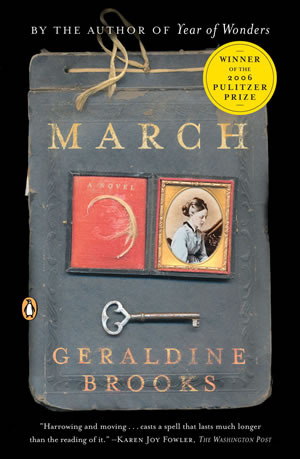 2015 Reading Challenge Week 5 - A Pulitzer Prize Winner
Some time ago, a friend recommended 'March' and the following day, I was browsing the bookshelves of a second hand shop when it tumbled down and fell at my feet. I felt I had to buy it, although I never got around to reading it until now. When this option for this year's challenge came up, I decided it would be the one. This novel was the 2006 Pulitzer Prize winner.
Winner of the 2006 Pulitzer Prize For Fiction. From the author of the acclaimed YEAR OF WONDERS, an historical novel and love story set during a time of catastrophe, on the front lines of the American Civil War. Acclaimed author Geraldine Brooks gives us the story of the absent father from Louisa May Alcott's Little Women - and conjures a world of brutality, stubborn courage and transcendent love. An idealistic abolitionist, March has gone as chaplain to serve the Union cause. But the war tests his faith not only in the Union - which is also capable of barbarism and racism - but in himself. As he recovers from a near-fatal illness, March must reassemble and reconnect with his family, who have no idea of what he has endured. A love story set in a time of catastrophe, March explores the passions between a man and a woman, the tenderness of parent and child, and the life-changing power of an ardently held belief.
MY THOUGHTS:
Remember the first chapter of 'Little Women' when Meg says, 'I think it was so splendid of father to go as chaplain, when he was too old to be drafted and not strong enough for a soldier'? This is his story, told in first person about his experiences in the Civil War, and also includes flashbacks of his youth and life with his wife and daughters.
His story is based on research Geraldine Brooks did into the life of Bronson Alcott, Louisa May Alcott's father. March (for his Christian name is never divulged) was a peddler in his late teens when he first experienced the southern way of life. Prosperous in his twenties, he lost his fortune investing in John Brown's underground railway. It's interesting seeing local historical figures such as Brown, Ralph Waldo Emerson and Henry David Thoreau appear in the story. Concord, Massachusetts, had its fair share of celebrities back in the mid 1800s, and probably hasn't had many since.
March comes across as an idealistic thinker. His planned Utopian community, where men and women could live with nature but without its exploitation, sounds like a forerunner of similar twentieth century attempts. Perhaps this goes with his vegetarianism, a principle he stuck to all his life. He always put himself in the place of humans and animals alike, making me applaud his empathy. March brought to mind the quote I once read that a man's character is measured by the way he treats those who can do nothing for him. Regardless of the opinions displayed by those around him, he found the ex-slaves in this novel to be 'God's image cut in ebony.'
It's easy to recognise members of the 'Little Women' family, making this book quite clever. It contains an earlier version of Marmee, while she still hadn't controlled the fiery temper she mentions to Jo in the classic. But I definitely wouldn't consider this novel to be a prequel, sequel or companion volume. The genre is way too different, with its in-your-face horror stories of war. I feel sorry for any young girls who may like the blurb and decide to read it, based on their fondness of 'Little Women', with its warm, cosy, wholesome themes. 'March' is way different.
Even though the book was published in the twenty-first century, Brooks keeps the lofty style of voice used by the father in 'Little Women', and somehow the preachy, outdated nineteenth century tone comes across OK. She plants lots of thought-provoking quotes in his mouth.
On education and his passion for teaching - 'My objective was to awaken their hearts to the ideas dormant there, rather than to implant facts in their memory.'
On courage - 'Who is the brave man, he who knows no fear? If so, then bravery is but a polite term for a mind devoid of rationality or imagination.'
On poverty - 'I was glad to give up the garments on the peg rail that spoke to me of slave labor, worm slaughter and sheep theft, for is not the fleece the rightful property of the sheep? And why should the humble silkworm be sentenced to death for our finery?'
As for ranking this book, I usually love to escape with uplifting stories that end happily for the good characters. This is full of tragedy, made even more heartbreaking by Geraldine Brooks' descriptive writing which leaves nothing to the imagination. It's not my favourite type of book, yet I can see why it's very good. Although some books are great for escapism, others are written from a sense of responsibility that we should understand our world history, and the sacrifices some made for others. This is one of those types of books.
The best quote by March to end with might be this one. 'How could one turn the other cheek to this evil when the cheek being turned was not one's own, but that of innocents?'
3.5 stars.