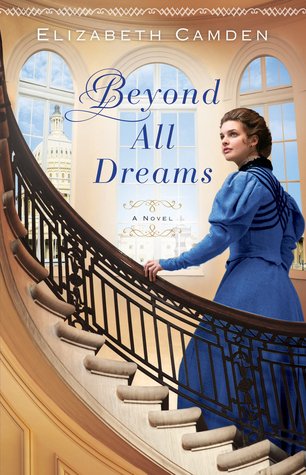 Sweeping and Romantic Historical Drama from an Award-Winning Author
Anna O'Brien leads a predictable and quiet life as a map librarian at the illustrious Library of Congress until she stumbles across a baffling mystery of a ship disappeared at sea. She is thwarted in her attempts to uncover information, but her determination outweighs her shyness and she turns to a dashing congressman for help.
Luke Callahan was one of the nation's most powerful congressmen until his promising career became shadowed in scandal. Eager to share in a new cause and intrigued by the winsome librarian, he joins forces with Anna to solve the mystery of the lost ship.
MY THOUGHTS:
This is another well-researched novel by Elizabeth Camden, set around the turn of the twentieth century. It's fun to see a library setting for a budding romance.
Anna O'Brien is a map librarian who discovers some inconsistencies in a report about the sinking of the Culpeper; the ship on which her father supposedly drowned. Not expecting to ticked off for meddling when she makes a report, she wonders whether something unsavoury is being hushed up. Luke Callahan is her likeable, impulsive congressman admirer, who decides to look into the fate of the Culpeper to please her. He has no idea about the tinderbox it will turn out to be.
Anna and Luke seem to be total opposites on the surface, but share traumatic childhood memories, a love of books and a passion for possessing knowledge. Luke once aspired to be a great poet, but realised he wasn't very good at it. I like his advice to his nephew, Philip, that if you don't reach your dream, you can channel the passion and energy into something equally worthy. I also like Luke's funny intolerance to modern contraptions, which now themselves seem very outdated and old-fashioned to us.
His family are interesting secondary characters, all full of enthusiasm and bluster. His brother Gabe's 'infamous stairway to nowhere' is such a good analogy for the way they choose to live.
As for Anna, I'm glad she's able to stick to her desire to live a quiet life. This isn't one of those novels about a shy girl who who finds the courage to step out of her comfort zone for the long term and live happily ever after, as if the limelight is better than behind the scenes. The author understands that introverts can't change their colours, and that they wouldn't even want to. The author bio tells us that Elizabeth Camden is a research librarian herself, so I can see why Anna's voice rings so true (although thankfully they are permitted to marry in the 21st century without being expected to resign).
Perhaps Luke's quote to Anna is a good take-away from this book. 'The world can be a tough and gritty place. We need to seize beauty wherever we find it.'
Thanks to NetGalley and Bethany House for my review copy.
4 stars