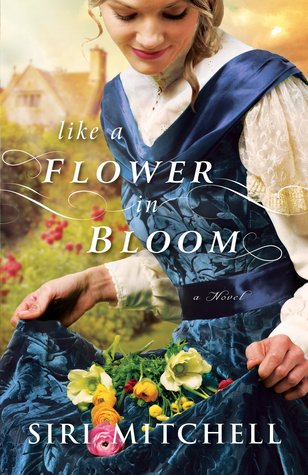 2015 Reading Challenge Week 1 - A Funny Book
This is a worthy novel to begin this year's challenge. The characters and situations kept being comical throughout 368 pages, yet the underlying themes touched my heart. I love it when comedy is combined with depth.
Victorian-Era England Comes Alive in This Witty Romance

For years Charlotte Withersby has worked as an assistant to her father, an eminent English botanist. As she approaches the old age of twenty-four, her father pushes her out into society, swayed by an uncle who believes God's only two roles for women are marriage and motherhood. When one of the Withersbys' colonial correspondents, Edward Trimble, returns to England, he's drafted as the new assistant so Charlotte is free to marry. This suits Edward's plans quite well, since the last thing he wants to do is reunite with the family he is ashamed to call his own.

Though Edward proves himself vexingly capable on the job, Charlotte won't surrender the job without a fight, and schemes with her best friend to regain her position. Perhaps if a proposal seems imminent, Charlotte's father will see his error and ask her to return. Charlotte tries to make headway in her town's social life, but reveals herself to be unaware of all the intricacies of polite society. Though Edward pitches in, tutoring her in society's expectations, she just seems to make things worse. And the more she comes to know of her father's assistant, the more trouble she has imagining life without him. Caught in a trap of her own making and seeing the hopelessness of her prospects, will Charlotte get to keep her work or will she have to cede her heart?
MY THOUGHTS:
This is an excellent and hilarious parody of the Victorian era.
Charlotte Withersby is a talented botanist who has kept her father's records (and even written some of his books) for many years. Suddenly, he and her uncle decide that she should seek a husband before life passes her by, because that's why God created women. They hire a young man named Mr Trimble to replace Charlotte as her father's assistant. She feels obliged to go through the motions of complying, all the while longing for Trimble to botch up, so she can have her old place back again. Meanwhile, Charlotte finds herself sucked deeper into a social vortex, while all she wants is to be left alone with her plants and flowers.
Charlotte is so fresh and forthright. She doesn't get the appeal of the fashionable life, and implicit expectations keep soaring way over her head. Many funny and awkward predicaments occur because she genuinely doesn't understand all the artifice and insincerity required of her. She finds herself relying increasingly more on her friend, Miss Templeton, who knows all the ropes. Charlotte singled her out as the 'ideal specimen by which the rest of us must be judged'. Already eighteen, Miss Templeton 'knows' that she must settle on somebody soon or her matrimonial chances will be slim.
Charlotte is a great representative for all readers who are happily enjoying a different world to the one which seems to be inhabited by everyone else. Throughout the story, it comes to light that several other characters have been relying on social norms and conventions to form their behaviour, convincing themselves that they are happier than they really are. It brings home that people who set themselves up as experts don't know what's best for every unique individual. Reading this story is a good wake-up call for those of us who keep doing what we think we ought to, just because others have told us it will make us happy.
It's also a great encouragement to keep doing the things we love in spite of lack of support. Passionate women like Charlotte, who were limited in their career outlooks because of their gender, just kept working away anyway.
This book is full of quotes guaranteed to get a laugh, because characters so often mistake what other people mean. To give one example, Mrs Bickwith, a snooty hostess, tells Charlotte, "I don't think I've ever met anyone so secure in their expectations that they can afford to flout convention,"and watch Charlotte's innocent reaction.
Thanks to Net Galley and Bethany House for my review copy.
5 stars