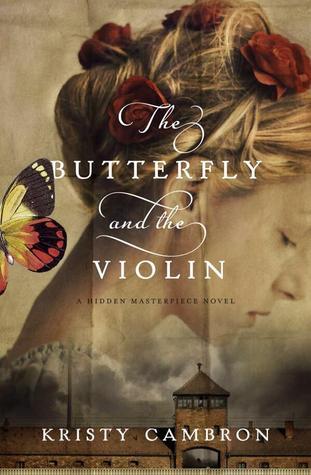 "Vienna, 1942." Adele Von Bron has always known what was expected of her. As a prodigy of Vienna's vast musical heritage, this concert violinist intends to carry on her family's tradition and play with the Vienna Philharmonic. But when the Nazis learn that she helped smuggle Jews out of the city, Adele is taken from her promising future and thrust into the horrifying world of Auschwitz.

The veil of innocence is lifted to expose a shuddering presence of evil, and Adele realizes that her God-given gift is her only advantage; she must play. Becoming a member of the Women's Orchestra of Auschwitz, she fights for survival. Adele's barbed-wire walls begin to kill her hope as the months drag into nearly two years in the camp. With surprising courage against the backdrop of murder and despair, Adele finally confronts a question that has been tugging at her heart: Even in the midst of evil, can she find hope in worshipping God with her gift?

As Sera and William learn more about the subject of the mysterious portrait--Adele--they are reminded that whatever horrors one might face, God's faithfulness never falters.
MY THOUGHTS:
When I first saw that this book's theme is the atrocities of World War Two, I almost skipped it, thinking it would be too confronting and devastating. But positive reviews have been popping up so often that I got used to the sight of the beautiful cover and finally caved in. It turns out to be a story with two threads running through it; a historical and a modern.
Sera James is an emotionally frail art gallery owner with a passion for finding one particular painting since she was a little girl. It's the striking portrait of a beautiful young prisoner in a concentration camp. William Hanover is the oldest son of a family empire. His grandfather has bequeathed his entire estate to the painting's owner, and William has no clue who it is. Together, he and Sera strike up an unlikely alliance to find out, each for their own reasons.
Identifying the subject is the easy part. She was Adele Von Bron, whose story runs counterpoint to theirs. A talented violin player, Adele was toasted as 'Austria's Sweetheart' until she's discovered offering aid to a poor Jewish family and taken to Auschwitz for treason. Her musical ability saves her life, as she's assigned to an orchestra of female prisoners who are forced to play for the army.
I'm in two minds about this book. I found some of the dialogue and facial expressions were a bit heavy-handed, especially in Sera and William's part of the story. Oneliners, funny names and snide or snarky comments went flying as people were 'spitting out their words' or 'trying not to roll their eyes' (I've never thought of eye rolling as an involuntary response). Her skin often 'tingled with his touch' as she tried not to notice the cool scent of his cologne. And then there's the literary one tear 'rolling down her dimpled cheek.' Much as I found both Sera and William to be likeable characters, it was hard to draw myself into their whirlwind romance, fraught with its misunderstandings. Maybe I just wanted to get on with the mystery of what they were searching for.
I sometimes felt Adele just managed to miss being one of those stereotyped heroines who have everything; beauty, talent, courage and an innocence which never fades. Her relationship with Vladimir, her beloved, is very special though. There is so much heart in this novel to balance out the lapses in style and execution. The biggest pull to keep reading is definitely the mystery of who owns the painting, and how will Sera and William's story finally be connected to Adele's? Family and personal history sleuthing make some of the best plots. When all the links were finally revealed, I could see what a lot of planning and research went into it.
Overall, I think the author succeeded in bringing that heartbreaking time period back to life, making me shake my head to think that my parents were very young children while all these unimaginable, barbaric acts were being committed by people who never turned a hair.
Thanks to Thomas Nelson and Net Galley for giving me a copy to review.
3.5 stars