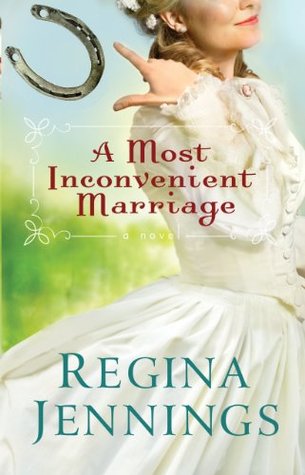 A Marriage of Convenience Turns Most Inconvenient in this Historical Charmer

Having fled a difficult home life, Civil War nurse Abigail Stuart feels like her only friend in the world is sweet but gravely wounded patient Jeremiah Calhoun. Fearing he won't survive, the Confederate soldier's last wish is that Abigail look after his sickly sister at home. Marry him, return to his horse farm, and it'll be hers.

Left with few choices, Abigail takes him up on his offer and moves to Missouri after his death, but just as the family learns to accept her, the real Jeremiah Calhoun appears--puzzled to find a confounding woman posing as his wife. Jeremiah is determined to have his life back to how it was before the war, but his own wounds limit what he can do on his own. Still not fully convinced Abigail isn't duping him, he's left with no choice but to let the woman stay and help--not admitting to himself she may provide the healing his entire family needs.
MY THOUGHTS:
This is one of my favourite books of the year, and we're into December.
Abigail Stuart is a war nurse who makes an agreement to marry a dying soldier who calls himself Jeremiah Calhoun. She's estranged from her family and needs a new home, and he claims to need a nurse to care for his ailing sister, and a competent horse woman to help with the family business. Abigail will have to break the news of his death to his fiance, but he's sure she'll understand. Everything seems to be going to plan, when the real Jeremiah Calhoun arrives home from the war. It seems the dead soldier was an imposter, playing some sort of twisted game, which sets these two up for a very rocky start.
I'm proud to say that I figured out the identity of the pretend Jeremiah, including his motivation for the act he played, on my own. It was great fun watching it dawn on the characters. There's a very lovable cast in this novel, including Josiah and Betsy, two very mischievous children from a neighbouring property, who steal the scenes they are in with their comic relief. There were plenty of humorous incidents to keep me smiling. Being an Aussie, I can only imagine the stench of a skunk.
As the novel isn't set during, but in the aftermath of the Civil War, there is a hopeful overall impression of building up and restoring. A lot of the action deals with some sneaky crooks who don't hesitate to kill.
Most of all, I adored the two main characters. Abigail is a capable, resilient woman who has made up her mind to guard her heart, determined to never experience hurt like she received from the hands of members of her family, but her tendency to love deeply is her vulnerable point. I found a scene where she cries silent tears at night most poignant simply because she's not the cry-baby type. The 'hillbilly boy' she'd made up her mind to resist has broken through her defenses, and he couldn't even seem to be bothered trying.
Jeremiah is a young man who was made head of his family too early, which may explain the control freak tendencies he's accused of during the story. He really only wants his family to be happy and prosperous. Jeremiah has learned to assume a gruff, suspicious persona through necessity, but hides a tender heart. Some of his revelations are great, such as what really constitutes a true home. Through him, we see that sometimes when things appear to be going haywire, they are really the best things that can happen.
I'd recommend this novel to anybody who wants a fun historical romance with a bit of depth.
Thanks to Net Galley and Bethany House for my review copy.
5 stars